Heidi Klum Topless
In an effort to get people to watch the dying show "Project Runway", executive producer Heidi Klum gets virtually nude for the new ad campaign for the show. Heidi Klum hosts a reality series where aspiring fashion designers compete for a chance to break into the industry. Each week, a designer is eliminated from the competition after exhibiting their work in front of a judges' panel. After countless instances of truly fashion forward designers being booted off and mediocre fashion shows, it is no wonder she's taking her clothes off in repressed America to generate hype over the show.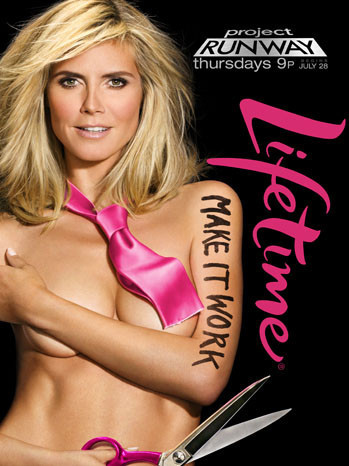 In new ads for Lifetime's "Project Runway, Heidi Klum is shown from the hips up wearing nothing but a pink tie," with an arm strategically draped over her chest.
"This is definitely sexier than past campaigns we've done for Project Runway," says Klum. "I guest you could say 'Hans and Franz' are celebrating season nine!"
In addition to previously announced celebrity guest judge Kim Kardashian, Runway is adding Malin Ackerman, Christina Ricci and Zoe Saldana to this season's roster of fashion icons as judges. Michael Kors, and Nina Garcia return as judges. Tim Gunn returned to mentor the competing designers.
Please visit my legal website:
Nevada DUI Attorneys
See me on YouTube:
Seattle Cop Punches Black Teenage Girl
Follow @Kevin_Cardinale