Joe Wilson Yells You Lie: Obama Lies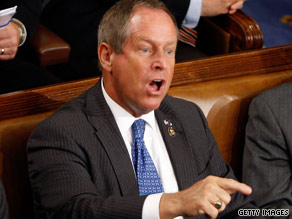 Representative Joe Wilson (R) South Carolina yelled out "You Lie" to President Obama as he was giving a joint session of congress address. President Obama was asserting that the health care plan that he is proposing would "not" cover illegal aliens, contrary to popular belief. It was at this point that Rep. Joe Wilson yelled out "You Lie".
HR3200 the Obama Health Care Plan and Illegal Aliens
Let's look into the bill and what it actually does say about illegal aliens and receiving benefits from the ObamaCare plan. The simple fact is President Obama was in fact lying.
The method by which illegal immigrants will come to be covered under ObamaCare is through the bill's (HR3200) failure to contain any


citizenship verification requirement or

enforcement mechanism mandated to verify one's eligibility.
Other federal programs routinely carry language requiring proof of citizenship before allowing access to benefits.
Congressional democrats defeated two bills which actually enunciated a requirement to show proof of citizenship and an enforcement mechanism to verify one's eligibility. The only proof required for the ObamaCare plan pertains to family income. The democrats then crafted the current HR3200 to cover illegal aliens as well as citizens. The tremendous downside is that citizens would pay into this an illegal aliens would not, nor would their be required to pay into it.
Please visit my legal website:
Las Vegas DUI Attorney
See me on YouTube:
Shakaama Live