Four Years Later are you Better Off?
There is a lot of discussion about Black people voting for Obama. Where 2008 Black people as a whole said they were going to vote for Obama, simply because he's half Black, 4 years later they are reconsidering, with the benefit of knowing his policies.
I'm here to ask the question, after 4 years, are you better off?
I have a reputation for the readers of my blogs, to not treat people like babies. In this case, I won't be any different.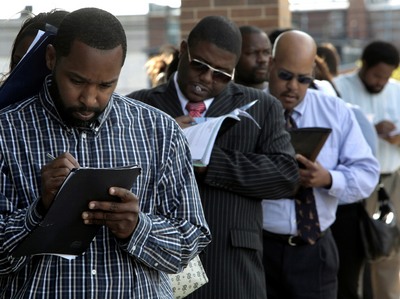 Black Unemployment 37% Nationally
The news is not going to ask you to consider grow-up issues like this.
Four years, into the Obama administration are you better off?
are you employed
are you making more money
did your wealth go up
did your open a business
did your payroll taxes go up
did your medicare taxes go up
did your social security taxes go up
are you paying new taxes that didn't exist 4 years ago
did inflation go up
did more jobs get outsourced
were there attacks on your faith in god by the government
were there any favorable supreme court cases heard
can you do things today that you couldn't 4 years ago
Across the board, Obama has been devastating to the Black community, IN PARTICULAR. That means, of all the past presidents, Obama has done more specific harm to Black people, than any other president in the past 100 years.
Black wealth fell 60%. Black net worth fell from $30,000 to $5,000. It is sad, but Blacks are the only group that have absolutely no assets. The only "potential" asset they have is their home, but they use it as a personal residence, not as an investment vehicle, which removes it from being an asset. When Black people lost their personal residence, it gutted what wealth they had.
Black people do not open businesses. Black people are the only group in America that has over 250 people to 1 business. This means there is no Black wealth to speak of. This number jumped from 210 to 1 to 250 to 1 in the past 4 years. This means that Black wealth was smashed to nearly nothing in 4 years. The next group up is 90 to 1. That is nearly triple the wealth of Black people.
Black Foreclosure Rate Went from 34% to 51% in 2011
Black people do not count their dollars and cents. They do not calculate taxes. They do not shop around for goods and services. Corporations prey on Black people more than any other group in the U.S. Black people, single-handedly keep pay day loans doors open. It has been shown they pay 360% interest on pay day loans. If Black people lent each other money, and stopped using pay day loans, it would have to close its doors. Black people also pay credit card debt and fees more than any other group. In the past 4 years, those fees have gone up, and new fees have been introduced.
Wells Fargo, has decimated Black wealth, and under Obama it has full on raped, any and all aspects of Black wealth. They handed out predatory loans, their Black customers paid more in fees than anyone else and they foreclosed on Blacks more than any group in the U.S. The same can be said of Bank of America.
"OBAMA INHERITED THE WORST ECONOMIC CRISIS EVER" This is repeated over and over. Sooner or later, people will start to believe it. If Black people owned more businesses, owned more real estate, paid attention to taxation, they would see that there is an economic downturn every 10 years, and a full-on economic crisis every 20 years. What Black people don't know is that the DOT COM crisis did just as much damage as the housing bubble.
What's the difference between the DOT COM bubble and the housing bubble? Black people were not caught up in the DOT COM mania. Since, it didn't affect Black people, they don't remember it.
Before that, 30 years ago, there was another real estate crash. Millions were lost. More millionaires went broke in that crisis than today.
Before that, 40 years ago, there was an oil crisis. Carter went down in flames over it, and the entire nation was almost halted from it. I'd say it was much worse than this housing bubble. It literally affected everyone.
So, this crisis is nowhere near worse than the crisis before. Obama did not inherit something no other president has faced. Obama has done a terrible job of handling it, and has gutted Black wealth in the past 4 years.
Go over the list I mentioned at the beginning and if you pass every list item, then you vote for Obama, not because he's half Black, but because you have more money and are better off today than you were 4 years ago. If not, you have a duty as a grown-up to vote for someone else, because voting for Obama when you are worse-off then you were 4 years ago, is voting against yourself.
Obama has not been loyal to you. You should not be loyal to him.
Please visit my legal website:
Las Vegas DUI Lawyer
See me on YouTube:
Seattle Cop Punches Black Teenage Girl
Follow @Kevin_Cardinale